Acoustical Design Guidelines
Listen...
Silence.
This is FIRM-FILL® SCM Hard at Work.
| Sound control solutions for multifamily, residential and renovation projects. |
THANK YOU for your interest in Hacker Industries, Inc.'s Acoustical Design Guidelines. To start your PDF download, please click on the image below. For questions on finding the right system and products for your upcoming project, please contact one of our Regional Sales Managers at (800) 642-3455.
If the system that you are interested is not currently featured in our Design Guide, then please click here to request more information.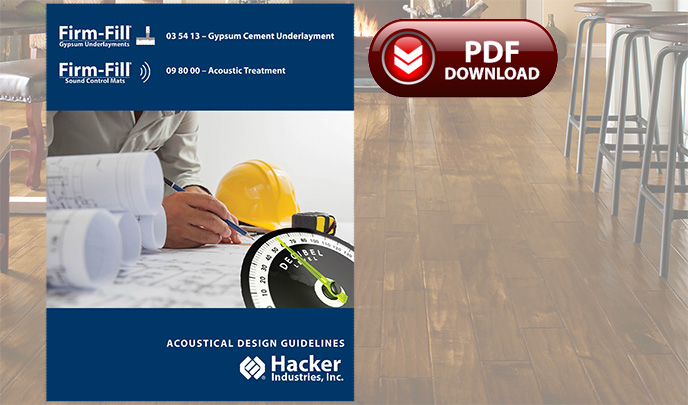 These guidelines shall be a resource only and are not a guarantee of performance. FIRM-FILL® SCM is only one component in an overall floor/ceiling assembly. Its acoustical performance is affected by every other component. The likelihood of achieving code compliance is contingent upon many other trades including (but not limited to) framers, plumbers and drywall contractors. Developers and general contractors are responsible for building properly and testing field performance as soon as possible in order to ensure the reliability of the project. Laboratory tests are not a guarantee of field performance because of the issues noted above and many other design and/or construction errors that may occur. Please consult a professional acoustical consultant to assure specifications are written correctly and that the floor/ceiling assembly can perform to expectations. Field performance testing shall be done to ensure reliability of design prior to occupancy.