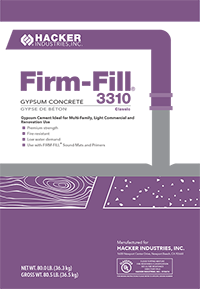 FIRM-FILL® 3310
An innovative product that elevates gypsum concretes to an unprecedented level of unyielding performance. FIRM-FILL® 3310 floor underlayment's fast-setting surface rapidly eliminates water allowing for accelerated drying time and unparalleled levels of strength and finish over wood and concrete subfloors in new construction and renovation projects.
Recommended For
Multi-Family Application / Market

Multi-family, custom homes, commercial buildings, hotels & motels, & renovation projects.
Features & Benefits
Premium strength, smooth surface over wood and concrete subfloors
Eliminates water rapidly for accelerated drying time
FIRM-FILL® 3310 floor underlayment can be poured before or after drywall
Exceptional compressive strengths from 2000 to 3300 psi
Delivers fire resistance and improved sound performance
FIRM-FILL® 3310 floor underlayment creates a smooth, crack-resistant surface
Expert application; installed only by trained, Licensed Applicators
Meets ASTM F2419, Standard Practice for the Installation of Thick Poured Gypsum Concrete Underlayments and the Preparation of the Surface to Receive Resilient Flooring
External Resources

Sweets ProductTAG

Product Resources
Product Submittal

3-Part Specifications

Project References

BIM

CAD

Drying Conditions Flyer

Post-Pour Instructions

Guidelines for Finished Floor Coverings

Featured Application

Dunn Loring Metro Apartments, Fairfax County, Virginia:

Collings Teen Center, West Sacramento, CA:

The Grande at Riverdale - Morris County, NJ

Post Lake at Baldwin Park - Orlando, FL:
Technical Data

Properties

ASTM

Weight
7.6 lbs/ft2 at 3/4" (19 mm)
C472M
Thickness
3/4" (19mm) (minimum over wood) to 3 1/2" (89mm); 1/2" (13mm) (minimum over concrete)
Compressive Strength
2000 - 3300 psi
C472M
Thermal Performance
K-value of 2.8 Btu/ft2·h·°F; R-value of 0.36 ft2·h·°F/Btu
C177
Fire Hazard Classification
Flamespread index 0; Fuel Contribution 0; Smoke Density 0
E84,
E136
Patty Size
8 1/2" (approx. 216mm) plus or minus 1/2" (13mm) in diameter
Sand
1/8" (3mm) or less washed plaster or masonry sand
E11
UL listings
Listed in over 100 1, 2, 3, and 4-hour floor/ceiling assemblies