Choosing the Right Underlayment Product
Hacker Industries, Inc. supplies a full line of poured floor underlayments and sound control mats that are unrivaled in their quality and consistency. With billions of square feet installed, Hacker Floor Underlayments are the premier underlayment solution for new construction, renovation and repair projects.
FIRM-FILL® Brand Gypsum Concretes
FIRM-FILL® branded products are used to achieve fire-ratings, sound attenuation and leveling over wood, concrete and corrugated steel substrates. They have been successfully used in a wide variety of applications, including apartments, condominiums, hotels, motels, dormitories, assisted living and commercial construction.
GYP-SPAN® Brand Radiant Underlayments
GYP-SPAN® branded products are specially formulated for use in conjunction with radiant heating systems. They limit void space around the radiant elements and maximize the efficiency of the radiant systems. These products have been successfully used in both single family and multi-family construction.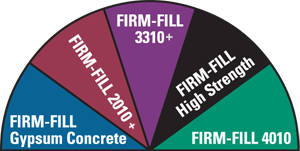 TRUE-SCREED® CLU
TRUE-SCREED® Branded products are hydraulic cements, which provide a cost-effective method to transform cracked, uneven concrete floors into a smooth, strong surface for finished floor coverings. These products are ideal for any indoor, underlayment application that does not allow for gypsum-based concretes.