Hacker Floor Underlayments
Product Benefits: High Performance
Feel the difference with a new class of sound control mats, designed to simplify sound control.
High Performance sound control solutions are easily attainable with Hacker Industries, Inc.'s innovative, new line of FIRM-FILL® SCM sound control mats. They have an advantage over the competition in that each of the four mats is a different color depending on the thickness, ensuring ease of identification. These leading-edge sound-attenuating mats are a valuble addition for noise control in apartments, condominiums, hotels and motels.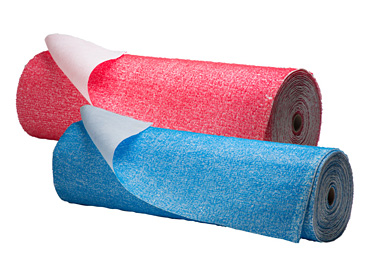 Recommended for construction projects requiring low-cost, high performance sound control solutions, these sound mats help to achieve STC and IIC ratings over 50. The new FIRM-FILL® SCM line is made from 90% pure polypropylene with no fillers, giving the resilient fiber fabric an extra bounce. Please contact Hacker Industries, Inc. for samples.


FIRM-FILL® SCM-125
Thickness 0.125 Inches / 3 mm

FIRM-FILL® SCM-125 is a noise control insulation mat designed to limit impact noise between floors. View Details




FIRM-FILL® SCM-250
Thickness 0.25 Inches / 6 mm

FIRM-FILL® SCM-250 is a noise control insulation mat designed to limit impact noise between floors. View Details




FIRM-FILL® SCM-400
Thickness 0.375 Inches / 10 mm

FIRM-FILL® SCM-400 is a noise control insulation mat designed to limit impact noise between floors. View Details




FIRM-FILL® SCM-750
Thickness 0.75 Inches / 19 mm

FIRM-FILL® SCM-750 is designed for performance in the most challeging sound control conditions. Specified for maximum noise control when a thicker sound mat is specified. View Details




Hacker Sound Mat I
Thickness 0.08 inches / 2 mm

Hacker Sound Mat I is a flat, resilient rubber sound control underlayment used directly under all floor finishes, yielding exceptional results even under hard surface flooring and over concrete and wood joist construction.




Hacker Sound Mat II
Thickness 0.25 inches / 6 mm

Hacker Industries, Inc. continues to provide solutions for maximizing sound control in multi-family projects, commercial buildings, and custom homes with Hacker Sound Mat II. This sound mat is composed of 92 percent recycled rubber and is designed to provide a quieter environment and meet the most demanding project specifications. View Details