Hacker Floor Underlayments
Product Benefits: Low Profile
To address high frequency noise, we like to stay low.
Low profile- that is. With FIRM-FILL® SCM-125, Hacker Industries has addressed the need to reduce the transition from sound mat areas to non-mat area in multi-family construction with this 3mm sound control mat engineered to limit impact sound transmission. Ideal when topped with a non-standard minimum 3/4" (19mm) thickness of FIRM-FILL® Gypsum Concretes, FIRM-FILL® SCM-125 is a cost effective way to address minimum IIC requirements while maintaining a minimal profile for your sound control system.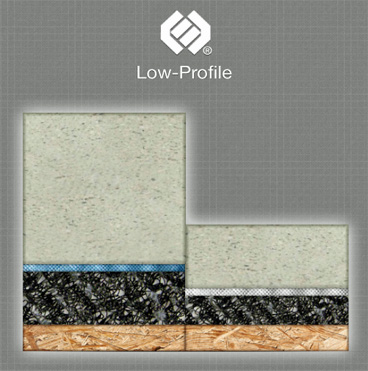 Sound Control Mat Data
| | | | |
| --- | --- | --- | --- |
| Gypsum Underlayment | Sound Mat | Result | |
| 3/4" FIRM-FILL® 2010 | FIRM-FILL® SCM-125 | Extra-Heavy Duty | |
| 1" FIRM-FILL® 2010 | FIRM-FILL® SCM-250 | Extra-Heavy Duty | |
| 1.25" FIRM-FILL® 3310 | FIRM-FILL® SCM-400 | Extra-Heavy Duty | |