Press Release
Guaranteed Waterproofing & Construction Become New Hacker Industries, Inc. Licensed Applicator in Salt Lake City
Newport Beach, Calif. (March 16, 2017) – Hacker Industries, Inc., suppliers of FIRM-FILL® gypsum concrete underlayments and FIRM-FILL® SCM sound control mats, announced today a new licensed applicator for its products, Guaranteed Waterproofing & Construction(GWC). Based in Sandy, Utah, GWC has been in business for over fifteen years and services not just the greater metro Salt Lake City area but all of Utah, Idaho, Wyoming, New Mexico and eastern Colorado.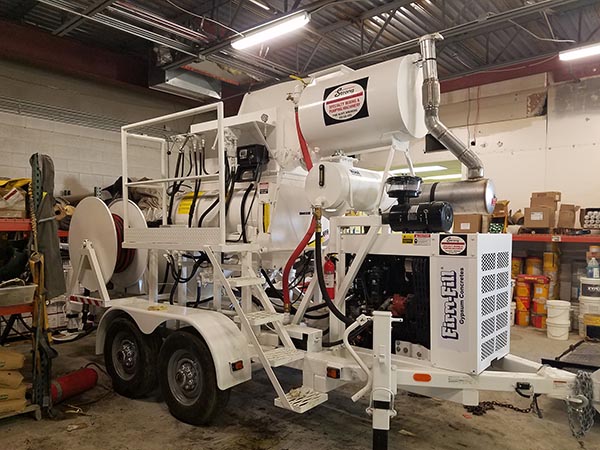 "GWC is a great addition to our network of licensed applicators," said Dean Hacker, Hacker Industries, Inc. Vice President of Sales and Marketing. "A company run as well as GWC will benefit the multi-family and hospitality industries in the Salt Lake City area with the high quality of work they produce."
For almost two decades, now, GWC specialized in using proven, cutting edge technologies that deal with concrete restoration, concrete waterproofing, and corrosion control. Always utilizing products that set the highest standards for quality, and have a proven track record of results, GWC turned to Hacker Industries when looking to expand their business.
"I'll only use the best products with my business, so when I looked to becoming an installer of floor underlayments, Hacker's FIRM-FILL products fit the bill," said Scott Whipperman, Owner, Guaranteed Water Proofing & Construction. "Their products have proven test results. The sound control mats are color coated, making it really easy for my guys to tell the products apart on the job site. The gypsum concrete flows really well when we're doing the pour, so installation is fast, easy and projects stay on schedule."
GWC is actively contracting projects and can be reached at 801-694-3812 or found on the web at www.guaranteedwaterproof.com.
Hacker Industries, Inc. supplies a comprehensive line of FIRM-FILL® gypsum concrete floor underlayments and FIRM-FILL® SCM sound control mats for sound and fire protection floor to floor in multifamily, hospitality, and commercial projects. Our products are distributed and installed by trained Licensed Applicators throughout North America.
Since 1983, Hacker Industries, Inc. boasts over 2 billion square feet installed, conducted over 400 acoustical tests since 2013, and over 100 UL Fire Rated Designs. Our business is centered around the quality of our product and service to our customers.