Press Release
Hacker Industries, Inc. FIRM-FILL® Products Meet New IAPMO Listing
Do Your Underlayments Meet the Latest Code Approvals?
Newport Beach, Calif. (October 25, 2017) After conducting an extensive series of comprehensive tests on their products, Hacker Industries, Inc. recently received a new evaluation report, ERO474, from IAPMO, certifying that Firm-Fill® Sound Control Mats (SCM) and Firm-Fill® Gypsum Concrete Underlayments are in compliance with current codes such as IBC/UBC. Building officials, architects, contractors, specifiers, designers and others utilize IAPMO Evaluation Reports to provide a basis for approving CSI Section 03 54 00 Cementitious Underlayments and 09 80 00 Acoustic Treatment products as acceptable in their projects.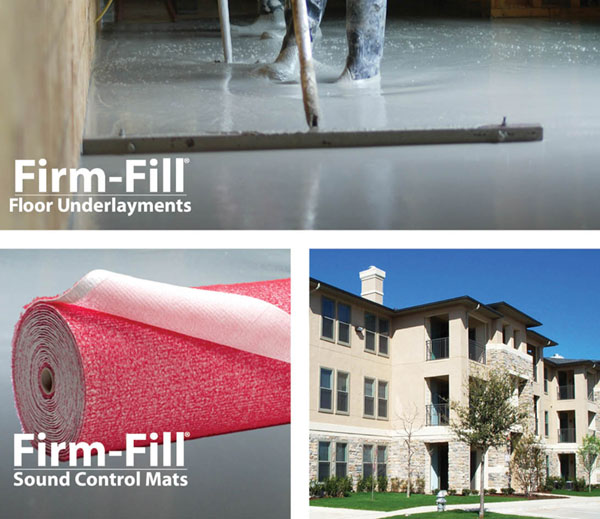 "From our beginning, it has been vital that our products show they are of greater value by meeting the most up-to-date code approvals," explained Dean Hacker, Vice President of Hacker Industries, Inc. "This is exciting news for us because building inspectors and cities have a long history of using evaluation reports, and IAPMO operates as a technical resource with the highest quality of product review for the building department."
IAPMO thoroughly examined Hacker Industries, Inc.'s Firm-Fill® SCM and Firm-Fill® Gypsum Concrete Underlayments and assemblies for use as floor leveling toppings/underlayments and also for sound transmission requirements in accordance with Section 1207 of the IBC/UBC and Appendix K of the IRC, and for use as fire-resistance rated floor/ceiling assemblies in accordance with Section 703 of the IBC and Section R302 of the IRC, as applicable. The SCM and gypsum concrete underlayments have been evaluated for composition, strength, density, sound transmission, and fire-resistance. Our products are also specified in more than 105 UL Fire Resistance Designs.
Hacker Industries, Inc. supplies a comprehensive line of FIRM-FILL® gypsum concrete floor underlayments and FIRM-FILL® SCM sound control mats for sound and fire protection floor to floor in multifamily, hospitality, and commercial projects. Our products are distributed and installed by trained Licensed Applicators throughout North America.
Since 1983, Hacker Industries, Inc. boasts over 2 billion square feet installed, conducted over 400 acoustical tests since 2013, and over 100 UL Fire Rated Designs. Our business is centered around the quality of our product and service to our customers.