Press Release
Elmhurst Gypsum Flooring, Inc. Completes 34,700 sq. ft. Gypsum Concrete Underlayment Installation in 1 Day
Headingly is a quiet, rural, community outside of Winnipeg, Canada, and is home to the Heartland Estates Adult Community, where people move to enjoy a peaceful lifestyle. As Heartland Estates' Phase II nears completion, leases are being signed for these first-class, spacious suites that offer plenty of natural light, large kitchens, private balconies and in-suite laundry rooms among other luxury amenities.
To create a living space as peaceful as the surrounding Headingly countryside, developer Bridge Road Construction Ltd. brought in Elmhurst Gypsum Flooring Inc. to install the floor underlayment needed to not only provide the necessary sound attenuation that helps create a quiet home, but the required fire protection as well.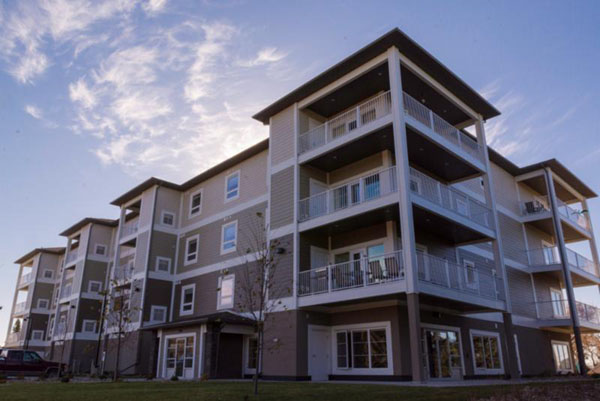 Elmhurst Gypsum Flooring chose Firm-Fill® 3310+ Gypsum Concrete Underlayment, the newest gypsum formulation provided by Hacker Industries, Inc. They were able to install all 34,700 ft2, at a depth of one inch, in a single day. This feat highlights one of the benefits of Firm-Fill® Gypsum Concrete Underlayment (GCU) - their ease of installation. Experienced crews like Elmhurst Gypsum Flooring, working with a quality product like Firm-Fill® GCU, help keep projects on schedule by being able to do the job fast and right the first time around.
Firm-Fill® 3310+ is a premium poured floor underlayment delivering best-in-class performance with compressive strengths from 3000-3900 psi. Ideal over wood or concrete subfloors in multi-family, hospitality, and renovation projects, FIRM-FILL® 3310+ maximizes sound control and creates an enhanced surface for finished floor coverings.
Like all Firm-Fill® GCUs, 3310+ is listed in over 105 UL Fire Rated Designs, meets ASTM F2419 and Tile Council of North America F180, as well as evaluation report approval from ICC-ESR 3386 and IAPMO UES-474, demonstrating that they meet IBC's latest code approvals. FIRM-FILL® SCM acoustical control mats also meet all above code approvals. When installed together, Firm-Fill® GCU and SCM can dramatically improved acoustical performance in multifamily housing.
Elmhurst Gypsum Flooring Inc. has been a licensed installer of FIRM FILL® products since 1992. In that time, they have installed FIRM FILL® GCU, as well as FIRM FILL® SCM acoustical control mats, in residential and commercial properties across Manitoba, Saskatchewan and Northwestern Ontario. For more information on Elmhurst Gypsum Flooring, Inc., as well as their other construction businesses, visit them online at www.elmhurstgroup.ca.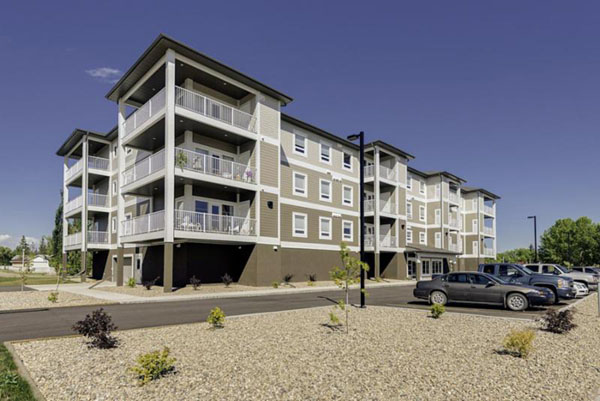 Exterior Rendering of Heartland Estates with Parking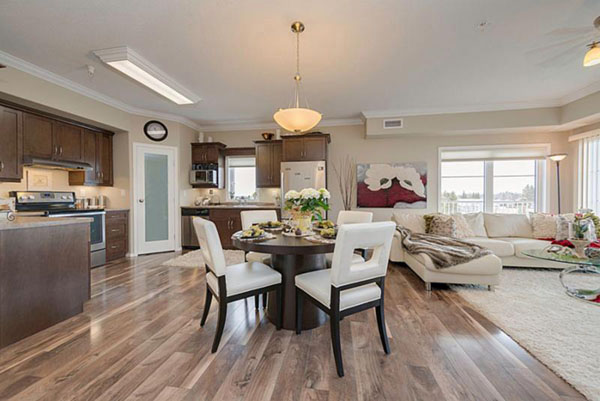 Wood laminate installed over 1" of FIRM-FILL 3310+