Press Release
Innovation is the Key to a Successful Business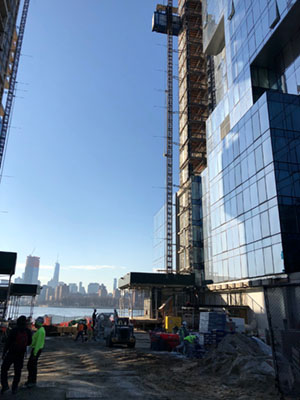 Newport Beach, Calif. (March 15, 2018) Hacker Industries, Inc., supplier of Firm-Fill® Gypsum Concrete Underlayments and Firm-Fill® SCM Acoustical Control Mats, is privileged to showcase their products to drywall contractors and their affiliates across the United States. Please visit Hacker Industries, Inc. at INTEX Expo in booth 1726 to learn what innovations FIRM-FILL® products can offer your business.
Since innovation is the key to a successful business, the addition of FIRM-FILL® products has been a huge success for our Licensed Applicators. One Licensed Applicator of Hacker Industries, Inc., who is based in New York City, recently expanded his business by adding FIRM-FILL® products. In the concrete jungle of Manhattan high rises, installing floor leveling concretes over concrete has often been a job done by barrel-mixing. The cost-entry point for barrel-mixing may be low, but it is a labor-intensive and time-consuming process.
The Licensed Applicator invested in a pump to install FIRM-FILL® Gypsum Concrete. With FIRM-FILL® being pumpable and virtually self-leveling, he can install up to 40,000 sq. ft. in a single day, pour it over an inch thick and feather it to zero to create a level, smooth surface for finished floor coverings.
By reinventing his installation method and products, he has seen his margins increase and his pump has already paid for itself. He is recruiting a larger crew so he can handle the demand for the projects in the area.
INTEX Expo will be held March 27-28 at the Walt Disney World Swan & Dolphin Resort. If you would like to contact Hacker Industries, Inc. prior to the show, please call us at 800-642-3455, email us at info@hackerindustries.com or find us on the web at www.HackerIndustries.com.